VMeetSwim Summer Championship 2021
VMeetSwim Summer Championship 2021
The VMeetSwim Summer Championship has concluded! Congratulations to the winners and thank you to the 200 swimmers who entered!
By Alix Knagg on Nov 5, 2021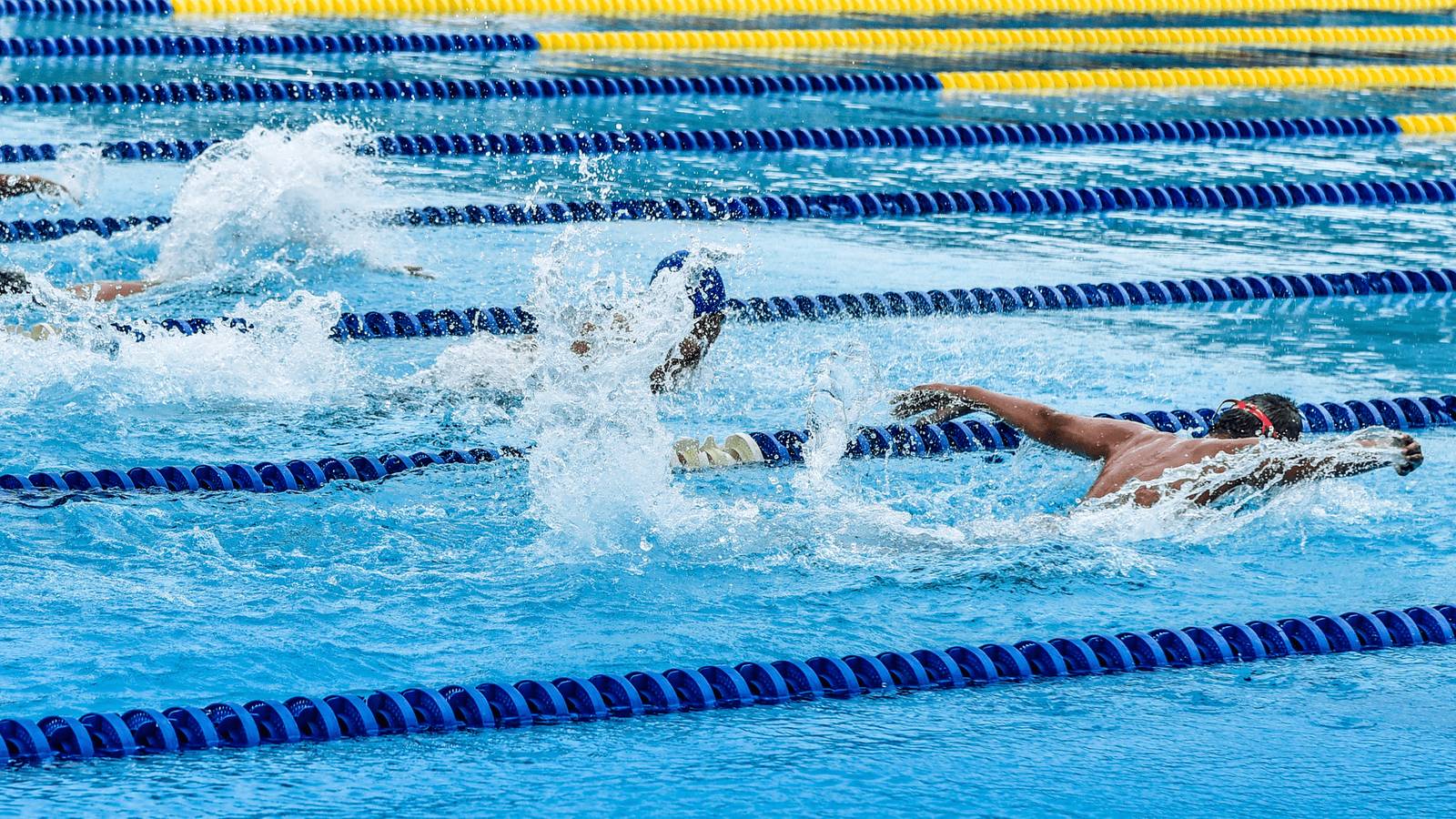 The VMeetSwim Summer Championship has concluded! Congratulations to the winners and thank you to the 200 swimmers who entered! | This weekend saw the conclusion of the VMeetSwim Summer Championship! The prize-winning competition has been running since July, since then 200 swimmers have entered a total of 1,200 times. As well as competing against others in their age group, swimmers were also competing to see who would get closest to their current British Short Course Record for their age group. Swimmers could see how close they were by looking at their percentage, a lower percentage meant you were closer to your respective record.
Eric Q Chen from Hong Kong Island Stingrays was the swimmer who got closest to his respective record. The 12-year-old swam an amazing 4:25.91 in the 400m Freestyle, only 3.88% over Stefan Kerwliec's record of 4:15.99 set in 2018. Chen also went only 5.72% over the 100m Freestyle record, where he swam a speedy 59.55!
For the women, Ellie Kennington got closest to her age group record in the 100m breaststroke. The Plymouth Leander swimmer went an impressive 1:13.13, only 7.07% over Rūta Meilutytė's record! The 14-year-old also got within 10% of the 50m breaststroke, 50m butterfly, and 100m freestyle records! For their excellent performances both Kennington and Chen will be taking home a cash prize of £50!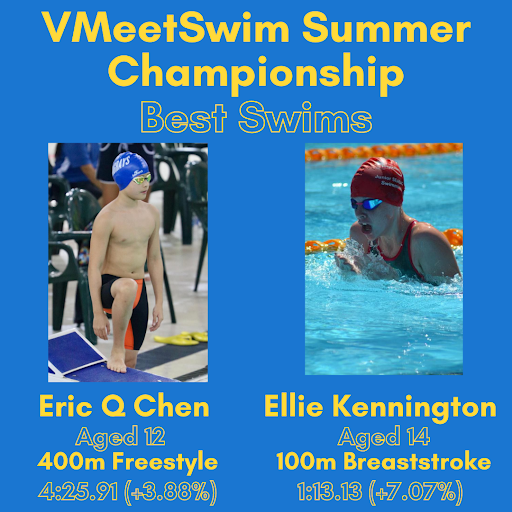 Using percentages to compare swimmers against their respective age group records meant that swimmers of different age groups could compete against each other. Luca De Zilva from Leicester Sharks closely followed Chen and was only 5.98% behind the 18-year-old record for the 50m backstroke after swimming an impressive 25.96. Tom Arkwright from Leyland Barracudas came within 7% of his records after a superb swim in the 50m freestyle. Brentwood swimmer Jacob Stephen improved by almost a second from his time posted at the start of the meet to become the 5th fastest male performer of the meet. There was more success for Hong Kong Island Stingrays, as 12-year-old boys Kaenan Joyce and Sebastian Huang produced phenomenal swims in the 400m freestyle and 200 Individual Medley respectively placing them 4th and 6th overall. Ethan Allpress showed his strength in the backstroke events, he produced a great 100m backstroke and was only narrowly beaten by Arkwright to get within 15.50% of Elliot Clogg's record.
Two more Leicester Sharks swimmers swam into the top ten positions. Jack Taylor and Alex Keeble both shone in the 50s, with Taylor winning the 17-18 year old 50m breaststroke and Keeble coming second in the 50m backstroke, behind teammate De Zilva. Youngster, Max Henderson from Cockermouth SC rounds up the top ten with a dominating performance in the 800m freestyle, only 16% behind the 14-year-old age group record!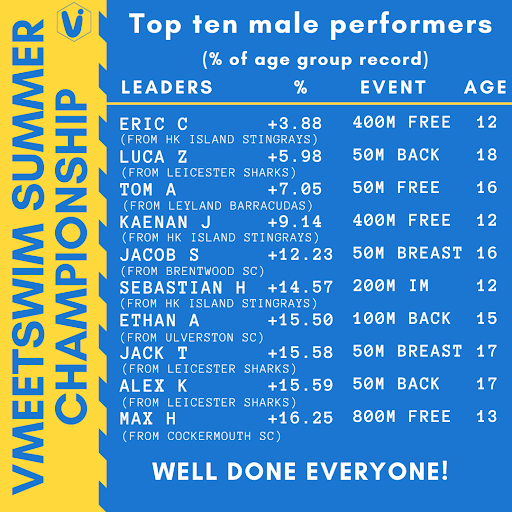 On the women's side, there were excellent swims from 14-year-old Ellie Wilson and 18-year-old Indya Sharp who both managed to get within 10% of their respective records. Wilson from Cockermouth SC swam a strong 9:24.20 in the 800m freestyle and Sharp from Ulverston SC swam a speedy 1:12.52 in the 100m breaststroke. There were also strong swims in the 15-16 years 50m backstroke, where Laurie Devine from Leicester Sharks just touched out Melissa Mainwaring from Swim West Lothian by 0.1 seconds. Both strong swims got the swimmers on the top ten leaderboard!
Mainwaring had a sensational meet where she produced strong swims in every event! Cockermouth SC ended up having 3 women in the top ten, in addition to Wilson, Amber Rigg produced a great 200m freestyle and Emily McDougall swam a skillful 100m freestyle to place them 6th and 10th respectively. Rigg is also the youngest female swimmer in the top ten!
Breaststroke specialist Jessica Ayling produced strong swims in the 50m and 100m breaststroke but it was in the 50m where she was only 11% behind Rūta Meilutytė's record. Mount Kelly and Ulverston swimmer Felicity Boyle was a sprint master and produced a very quick 27.40 in the 50m freestyle to place her 8th overall. Fellow Ulverston teammate Jamie-Leigh Tyson also showed strength in the sprints and entered the leaderboard with a speedy swim in the 50m backstroke.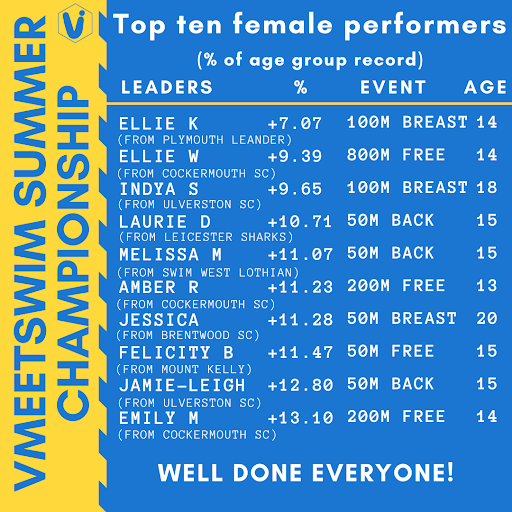 Congratulations to the top performers and well done to everyone who competed!